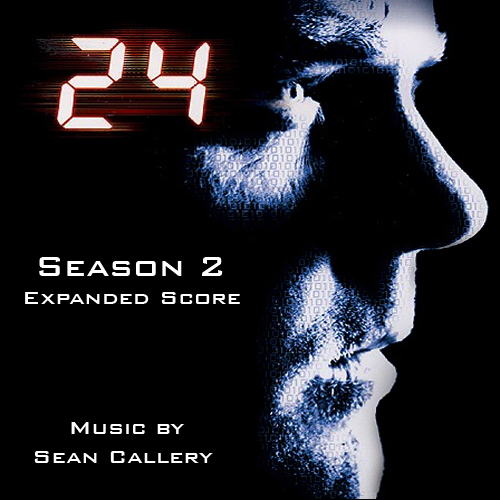 Here is a track listing and download link for the 24 Season 2 Expanded Soundtrack. Credit to Thalin for ripping these tracks and making them available. Author description:
This is an 'expanded' soundtrack for 24 Season 2. It is a collection of what I felt were
some of the best tracks from the season that didn't make it onto the official soundtrack.

This is a rip, so there is some light SFX in certain tracks. However, my extraction and
editing methods have cut down on the amount, and main voices have been completely removed
without any loss of quality. I've done my best to touch up some of the tracks where
necessary. The Expanded Soundtrack for this season contains slightly more SFX in some tracks
than my other rips, simply because the DVD was mixed differently. Because of this i've had to
rip it slightly differently. Thanks to spankman101 for giving me the heads up!

All thanks go of course to Sean Callery, for creating some awesome music this season!
24 Season 2 Expanded Soundtrack Disc 1
The Mole ~ A New Day (episode 5) 00:55
Remembering Teri (episode 1) 01:26
Kim's Theme (episode 1) 01:03
The Explosives (episode 2) 02:15
The Cougar (episode 11) 02:38
Wald's Crew (episode 4) 01:27
Jack's Back (Jack in the Limo edit) (episode 2) 01:40
The Hacksaw (episode 1) 00:26
Reza's Theme (episode 3) 01:27
The Translator (episode 14) 00:15
The Hunter (episode 9) 05:07
Alleyway Chase (episode 2) 01:09
The Intervention (episode 14) 01:10
The Involvement (episode 4) 01:04
The Evacuation (episode 3) 03:08
Paula's Death (episode 5) 01:22
Mason's Exposure (episode 5) 02:36
Indecisive Actions (episode 19) 02:17
The Last Man Out (episode 11) 02:24
Chlostrophobic (episode 13) 01:36
Hacking (episode 8) 02:02
Kate's Capture (episode 8) 01:40
A Real Hero (The Bomb Detonates edit) (episode 15) 02:23
The Drug (episode 6) 03:16
Novick's Betrayal (episode 21) 01:44
The Decoy (episode 13) 01:37
The Rescue (episode 20) 01:25
Escorting Kate (episode 16) 01:22
The Airfield (episode 13) 01:20
The Bomb (episode 14) 01:02
The Detonation Pt.1 (The Bomb Detonates edit) (episode 15) 01:49
The Detonation Pt.2 (The Bomb Detonates edit) (episode 15) 01:44
24 Season 2 Expanded Soundtrack Disc 2
The Fallout (episode 16) 01:55
The Man in Visalia (episode 7) 02:16
Almeida's Plan (episode 22) 03:41
The Crash (episode 24) 01:28
Splitting Up (episode 19) 02:13
The Pain (episode 14) 02:36
Yusuf's Death (episode 20) 01:25
Recalling the Chopper (episode 23) 01:13
A Federal Crime (episode 22) 02:00
The Cabinet (episode 21) 02:09
Hewitt (episode 23) 01:04
Kim in Peril… Again (episode 16) 01:06
The Chip (episode 21) 00:49
A Conspiracy Unmasked (episode 21) 01:13
Tony and Michelle (episode 19) 02:35
Marie's Theme (episode 24) 03:01
The 25th Amendment (episode 17) 01:10
The Healing Process (episode 24) 01:52
Kingsley's Theme (episode 23) 02:57
The Shooutout (episode 18) 02:35
Chappelle's Suspicions (episode 22) 02:46
Change of Heart (episode 1) 00:44
The Stabbing (episode 22) 03:13
Be Careful… (episode 21) 02:52
Kingsley's Arrival (episode 24) 03:05
Sherry's Fear (episode 24) 03:33
The Towel Head (episode 20) 02:05
Stanton's Arrest (episode 11) 01:27
The Race Against Time (episode 23) 01:33
The Trial of David Palmer (episode 21) 03:32
Maxs' Plan (episode 24) 00:52
Mason Leaves (episode 14) 02:02
Total Playtime – 02:04:11
24 Season 2 Expanded Soundtrack Download
24 Season 2 Expanded Soundtrack (24spoilers.com)
More 24 Expanded Soundtracks