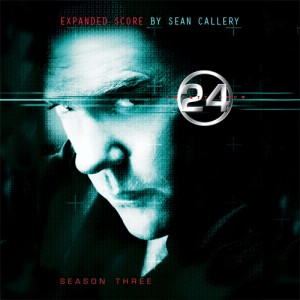 Credit to Thalin for ripping these tracks and making them available. Author description:
These are rips, so there is some light SFX in certain tracks. However, my extraction and editing methods have cut down on the amount, and main voices have been completely removed without any loss of quality. I've done my best to touch up some of the tracks where necessary.

All thanks go of course to Sean Callery, for his outstanding work!
24 Season 3 Expanded Soundtrack Track Listing
24 Season 3 Expanded Soundtrack Disc 1
The Virus (4:34)
Library Surveillance (6:00)
Covering Tracks (1:50)
Ambush in Mexico (5:47)
Rooftop Departure (3:41)
Courage (2:21)
Faking It (4:13)
Making the Call (3:33)
Send Her In! (3:36)
In Pursuit of the Courier (3:28)
Outside Help (2:14)
In Custody (0:50)
A Life On The Line (4:18)
Vengeance (2:31)
24 Season 3 Expanded Soundtrack Disc 2
Quick Thinking (7:57)
Seeking Revenge (3:03)
The Demand (4:46)
A Sin (3:30)
No Escape (3:20)
The Man Behind The Curtain (1:46)
The Trade (9:20)
God Forgive Me (4:12)
It Is Done (2:56)
A Long Day (7:17)
24 Season 3 Expanded Soundtrack Download
24 Season 3 Expanded Soundtrack (24spoilers.com)
More 24 Expanded Soundtracks