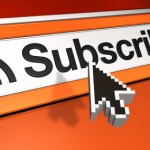 Did you know that you don't have to visit this site regularly to be kept in the loop? By subscribing to one of our options below you can stay connected and get updates delivered directly to you!
Subscribe (RSS & Email):
Subscribe via RSS – Thanks to Google's FeedBurner service, you'll be able to receive our updates instantly right into the RSS reader of your choice!
Subscribe via Email – Also served by Google's FeedBurner, you'll receive a daily email roundup with our posts from that day.
Stay Connected (Twitter & Facebook):
Follow Us on Twitter – We're having a fun time in the Twitterverse. We promise not to tweet about our lunch, just 24 goodness!
Join Us on Facebook – Like us and get updates delivered straight to your news feed!
Google+ – 24 Spoilers on Google+.