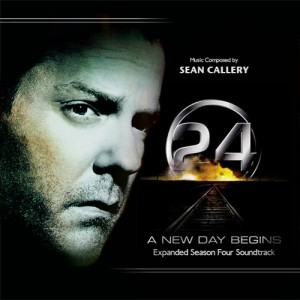 Here is the 24 Season 4 Expanded Soundtrack track listing and download link. Credit to Thalin for ripping these tracks and making them available.
24 Season 4 Expanded Soundtrack Disc 1
The Real Target
Roadblocks (Closing in on Marwan extended)
Setting the Stage
Lone Wolf
Loud and Clear
Securing the Files
A Job Well Done
The Robbery
One Of Us
The Overide
Reinstated
Bullet Wounds
The Imposter
Tony's Return
Escape Attempt
Final Goodbyes
Taking Action
The Switch
Change of Heart
Back to Life
The City Sleeps
Nightvision
Currently Unemployed
Caring Citizens
Differing Beliefs
The Missile
True Agendas
Our Thanks
Like Father, Like Son
Under Arrest
Help on the Way
Sacrifice
24 Season 4 Expanded Soundtrack Disc 2
Solaris
Driscoll Leaves
I Work With Computers!
The Promise
Scouting Ahead
Jack's Suspicion
Missile Technology
Arrival at the Bunker
The Exchange
Outside Help
Air Support
Saving Grace
They're Here…
A Touch Choice
Cheng's Suspicion
Delayed Reaction
The Crash Site
Within the Hour
Covert Operation
The Agreement
Picking up the Torch
Mariner Takedown
Assault on the Embassy
Be Careful
My Life's Purpose
At Peace
Bravery
The Choice
The Proxy
Mandy's Suite
Whatever It Takes
A New Life (Reviving Jack extended)
Total Playtime – 3:40:12
24 Season 4 Expanded Soundtrack Download
Where'd the download link go?
July 30, 2017 – Unfortunately Twentieth Century Fox Film Corporation's legal department has forced us to remove this unofficial fan soundtrack (and all other fan-made expanded soundtracks) claiming that it "creates consumer confusion" among other things. We respectfully disagree with these claims – none of these tracks were on the official soundtrack albums, and furthermore, there hasn't been an official soundtrack release in nearly a decade. Nonetheless, we have complied with Fox's demands and removed the download links. Apologies.
More 24 Expanded Soundtracks