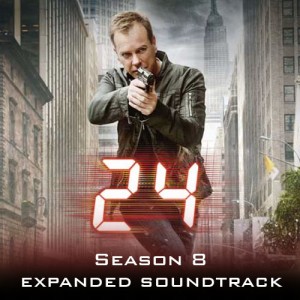 Credit to Thalin for ripping these tracks and making them available. Author description:
These are rips, so there is some light SFX in certain tracks. However, my extraction and editing methods have cut down on the amount, and main voices have been completely removed without any loss of quality. I've done my best to touch up some of the tracks where necessary.

All thanks go of course to Sean Callery, for his outstanding work!
24 Season 8 Expanded Soundtrack Listing
24 Season 8 Expanded Soundtrack Disc 1
File 33
A Helping Hand
Cop Killer
Hassan's Theme
The Russian Mob
A Dark Place
Tarin's Escape
The Burial
The Drones
Vladamir
The Nuclear Rods
The Arrest
The Hitter
Jenny Scott
Hazmat
The Corrupt World
Family Ties
The Russian Involvement
Ernst Meier
High Voltage
Going Dark
Dalia's Theme
24 Season 8 Expanded Soundtrack Disc 2
The Streets of New York Pt.1
Time Lapse
The Republic of Kamistan
One Song
Bishop
The Court
The Kiss
The Sting Operation
Jack's Loss
Black Ops
The Grieving Widow
Novacovich (sp)
Logan's Return
Jack's Confession
Dana's Escape
Ricker's Theme
The Streets of New York Pt.2
The Mask
Allison's Threat
Tick, Tock
The Signing
Retribution
Pull The Trigger!
Total Playtime : 03:02:22
24 Season 8 Expanded Soundtrack Download
Where'd the download link go?
July 30, 2017 – Unfortunately Twentieth Century Fox Film Corporation's legal department has forced us to remove this unofficial fan soundtrack (and all other fan-made expanded soundtracks) claiming that it "creates consumer confusion" among other things. We respectfully disagree with these claims – none of these tracks were on the official soundtrack albums, and furthermore, there hasn't been an official soundtrack release in nearly a decade. Nonetheless, we have complied with Fox's demands and removed the download links. Apologies.
More 24 Expanded Soundtracks