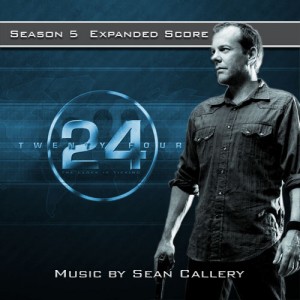 Here is a track listing and download link for the 24 Season 5 Expanded Soundtrack. Credit to Thalin for ripping these tracks and making them available. Author description:
24 Season 5 Expanded Soundtrack Disc 1
The Defining Moment
Reunited
Hostile Takeover
Cat and Mouse
My Wife is Gone
Assassination Watch
Cough When Ready
A Green Light
Gaining Access
Quick Thinking (Mandy's Plan edit)
Simple Psychology
Decisions
Tactical Operation
You've Read My File…
The Gas is Released
The Cummings' Conspiracy
False Hope
Rossler on the Move
She's Mine
Tony's Discovery
Pray With Me…
Clear the Hallways!
Ambush
Clear Shot
Safe and Sound
Edgar's Death
Seeking Revenge
Safe to Breathe (Tony's Farewell edit)
24 Season 5 Expanded Soundtrack Disc 2
Martial Law
A Hasty Retreat
The Bank Manager
Bierko's Transfer
Blood On My Hands
The Manifest
Staying Low
The Diversion (The Names O'Brian edit)
Heller's Arrival
Stay With Me…
Wayne's Escape
Woodland Espionage
Meeting Half Way
A Friend In Need
The Recording
Tracking Device
'We All Live In A Toxic Submarine'
People Like You
Strike Point
The Truth
The Handoff
He's Alive
The Replacement
I Almost Lost You…
Right Here, Right Now
It's Over… (Jack's Women edit)
That's The Way It Works…
Captured
Total Playtime – 3:44:29
24 Season 5 Expanded Soundtrack Download
Where'd the download link go?
July 30, 2017 – Unfortunately Twentieth Century Fox Film Corporation's legal department has forced us to remove this unofficial fan soundtrack (and all other fan-made expanded soundtracks) claiming that it "creates consumer confusion" among other things. We respectfully disagree with these claims – none of these tracks were on the official soundtrack albums, and furthermore, there hasn't been an official soundtrack release in nearly a decade. Nonetheless, we have complied with Fox's demands and removed the download links. Apologies.
More 24 Expanded Soundtracks