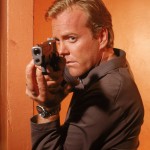 HOLLYWOOD (Variety) – Insomniac fans of Fox's "24," rejoice: Sister cabler FX will air the Kiefer Sutherland actioner's entire first season for 24 hours straight during Labor Day weekend.

The "24" marathon will kick off with episode one at midnight on Saturday, Aug. 31, and run throughout Sunday, Sept. 1, culminating with the finale at 11 p.m. Fox hopes to stir up interest in the six-disc "24" DVD, which comes out two weeks later.

Fox premieres the second season of "24" Tuesday, Oct. 29, with a commercial-free episode sponsored by Ford.

FX aired a second window of "24" throughout most of the season, to mixed results. The cable network has no plans to repurpose "24" again, although that possibility is still under discussion. The show recently received 10 Emmy nominations (including best drama, lead actor, directing and writing).

Meanwhile, "24" isn't getting the only cable marathon treatment in the coming weeks. TNT will air 11 consecutive hours of its action hour "Witchblade" on Sunday, Aug. 25.

The "Witchblade"-a-thon is scheduled from noon to 11 p.m. that day in preparation of the show's second-season finale, which airs Aug. 26.