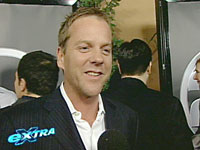 How does Agent Jack Bauer save the world from terrorists and still find time for romance? Kiefer Sutherland reveals only to "Extra" that Bauer will face some serious problems in his private life when the "24" clock starts ticking on Sunday night.

"Something happens on a very personal level that pisses him off," Sutherland revealed.

We've also learned that Jack will be feeling a double dose of love this season from not one, but two affectionate ladies. Of course Kim Raver is back as Audrey, who still carries a torch for Bauer even though their relationship appeared to be over last season.

"Her whole relationship with Jack was like one in a million," Raver said. "And I think she still feels that way. I know people say, 'Oh my God, is she going to cry one more time?' Well, with all those things that are happening to you, that's the way you're affected. And this year Audrey comes in, and she's just really strong."

But you can bet Audrey will face some tough competition from new cast member Connie Britton, who plays Diane, Bauer's new girlfriend with a rebellious teenage son.

So who will tame the heart of TV's hottest agent? "I don't know you'll have to watch," Raver said.

Let the games of love and war begin Sunday night when "24" breaks open its heart-pounding two-night season premiere!
Source: Extra