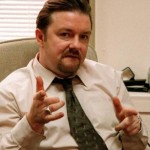 Ricky Gervais has filmed a cameo appearance in cult US drama 24.

In the joke scene – shot for the season six DVD – Gervais plays a presidential advisor who keeps whispering that a crucial mission should be assigned to Jack Bauer. He then acts "incredulous" when a colleague says his suggestion out loud and takes credit for his idea.

24 exec producer Jon Cassar told the New York Post that Gervais was "just too recognisable" to put in the show for real, but added that another scene featuring his writing colleague Stephen Merchant will be seen in the season six premiere in January. "Stephen actually walks up to someone at CTU and hands them a piece of paper."

Gervais has previously had cameo parts in Alias and The Simpsons. Together with Merchant he has also penned an episode of the US version of The Office.