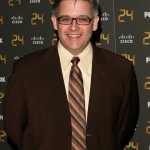 Oliver Grigsby, a writer on Heroes has revealed on his blog that 24 writer Juan Carlos Coto has joined their writing team:
We're also lucky enough to have Carlos Coto join the team. Carlos worked on 24 last year and is no stranger to time travel or Sci-Fi having spent time on Journeyman and Invasion. He's been a great addition to the Heroes team.
Carlos Coto joined the 24 writing team midway through the seventh season following the departure of Joel Surnow. Coto received a co-writing credit with Evan Katz on Day 7 9:00pm-10:00pm and a story credit for Day 7 3:00am-4:00am.
Source: Oliver Grigsby