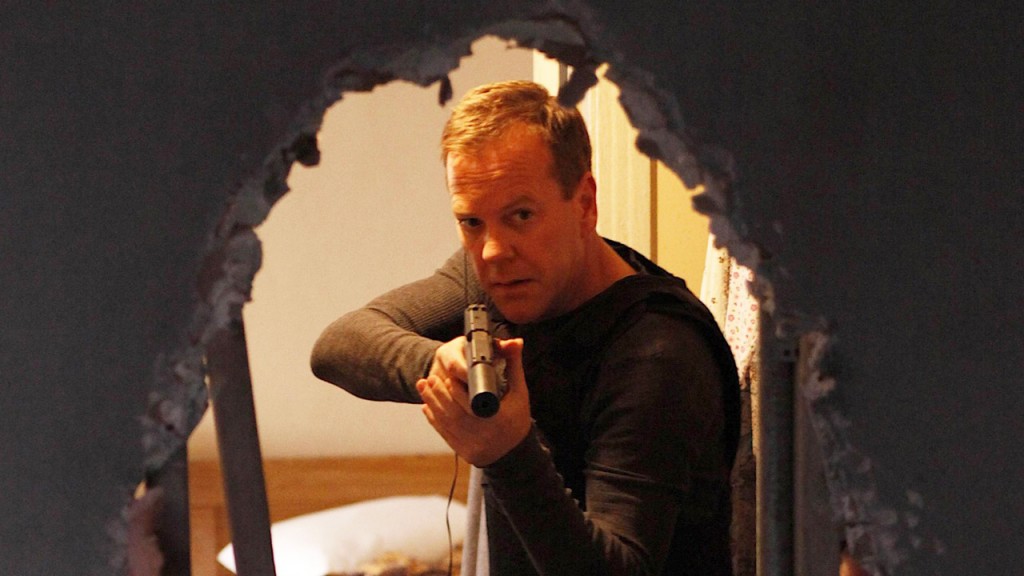 Anil Kapoor's final hours as President Hassan were his finest, clocking his protector Jack and giving himself over to the terrorists in hopes of averting the bomb blast. (He cut it close. There were only seven seconds left when the doomed Tarin stopped the timer.) In scenes of unusual reflection, Kapoor convincingly portrayed both Hassan's defiant idealism in his push for peace and deep sorrow that he couldn't win over the militant insurgents now deciding his bloody fate. He died a true hero's death.
Again, great stuff, and wonderful performances by all. Wersching has really had an amazing range to play this year, and her subtle wounded looks have said it all in many moments that would have been too broad by lesser actors. She's incredible and if Jack deserves to be with anyone, it's Wersching's Renee who is a perfect fit.

This two-hour episode will be hard to beat, but with the clock ticking toward the end of 24 as we know it, it's nice to have it back on its feet and heading toward the finish line with clarity, purpose and, well, Jack Bauer kicking ass and not taking names.
Now, raise your hand if you actually believed Jack would save him, because I did too. As Jack and Renee made their way into the apartment building, you could feel the tension building to unprecedented levels. I thought the entire situation played out as one of the season's finest, and the writers gave us more than we could absorb. Renee noticing the blonde wig on the floor and being first to pull the trigger as her life depended on it was riveting and well done.

"24" was dead on last night. These two hours were arguably the finest of the season, and that momentum has been building for more than a month with great show after great show. For all the grumbling along the way, "24" has delivered repeatedly in recent weeks, and as I changed the channel to see the ending of "David versus Goliath", I was satisfied and spent.
I love these special two-hour installments of 24; feels like Christmas in April. And there was lots to accomplish tonight, especially given how obvious it appeared last week that Fantastic Sam would surrender to the IRK in exchange for saving 58,000 New Yorkers from three agonizing, radiation-filled days.

Some posters took issue with how I failed to celebrate Anil Kapoor's mad skillz in the gunfight last week, but that didn't mean I've lost appreciation for his work. Kapoor was in fine form again tonight, starting with the heated argument he had with Dalia over her wanting to join him on his fateful mission. Crazy good stuff, even if I started to suspect that that it wouldn't end well for her and Kayla.