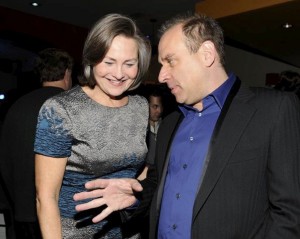 EXCLUSIVE: NBC's newly picked up drama series The Event is looking to become the new 24 and now it is close to tapping one of the key writer-producers behind the departing real-time Fox drama, Evan Katz, as showrunner. Katz is finalizing a two-year overall deal with Universal Media Studios, which produces The Event. Under the seven-figure pact, he will executive produce and run the series created by Nick Wauters.

The Event is a conspiracy thriller that follows Sean Walker (Jason Ritter), an everyman who investigates the mysterious disappearance of his fiancée (Sarah Roemer), and unwittingly begins to expose the biggest cover-up in U.S. history. Co-starring in the pilot are Blair Underwood as the newly elected U.S. President Martinez, Laura Innes, Scott Patterson, Ian Anthony Dale and 24 alum Željko Ivanek. On the series, Katz will serve as an executive producer alongside Steve Stark and Jeffrey Reiner, who directed the pilot. Wauters will serve as co-executive producer.

WME-repped Katz, who had been wooed by a couple of different pilots at NBC, joined 24 at the beginning of the second season as a consulting producer and has been an executive producer since Season 4. He won a WGA Award for the ground-breaking drama in 2004 and shared a best series Emmy with the rest of the series' producing team in 2006.