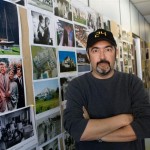 THR reports that History Channel has scrapped plans to air the controversial The Kennedy's miniseries which was written by 24 co-creator Joel Surnow, writer Stephen Kronish, and directed by Jon Cassar.
The miniseries was already completed and was History's most expensive project to date with many well-known stars like Katie Holmes, Greg Kinnear, Barry Pepper, and Tom Wilkinson. It's still scheduled to air in Canada on March 6, and will still be broadcast internationally. Producers are hoping to move it to a pay cable network.
In a surprise move, A&E Television Networks has canceled plans to broadcast The Kennedys, the ambitious and much-anticipated miniseries about the American political family that was set to air this spring on the History Channel.

"Upon completion of the production of The Kennedys, History has decided not to air the 8-part miniseries on the network," a rep for the network tells The Hollywood Reporter in a statement. "While the film is produced and acted with the highest quality, after viewing the final product in its totality, we have concluded this dramatic interpretation is not a fit for the History brand."

The multi-million dollar project—History and Lifetime president and general manager Nancy Dubuc's first scripted miniseries at the network and its most expensive program ever—has been embroiled in controversy since it was announced in December 2009.

Developed by Joel Surnow, the conservative co-creator of 24, along with production companies Asylum Entertainment and Muse Entertainment and writer Stephen Kronish, the project drew fire from the political left and some Kennedy historians. Even before cameras rolled, a front-page New York Times story last February included a sharp attack from former John F. Kennedy adviser Theodore Sorenson, who called an early version of the script "vindictive" and "malicious."

History and parent A&E said at the time that the script had been revised and that the final version had been vetted by experts. Indeed, the script used in production had passed muster with History historians for accuracy.

Despite the controversy, History was able to recruit a big-ticket cast to the project, announcing in April that Greg Kinnear (John F. Kennedy), Katie Holmes (Jackie Kennedy), Barry Pepper (Robert F. Kennedy) and Tom Wilkinson (Joe Kennedy) would co-star. The actors and CAA, which reps both Kinnear and Holmes, were told this afternoon of the cancellation. Surnow also was told today.

No advertisers had registered complaints or concerns with the miniseries, confirms an A&E spokesperson, but the content was not considered historically accurate enough for the network's rigorous standards. So an air date, which had not been announced but was planned for spring, was scrapped.

"We recognize historical fiction is an important medium for storytelling and commend all the hard work and passion that has gone into the making of the series, but ultimately deem this as the right programming decision for our network," a rep tells THR in the statement.

The miniseries is still scheduled to air in Canada on March 6, and will still be broadcast internationally.

But the U.S. cancellation no doubt is a disappointment in an otherwise blockbuster era for AETN president and CEO Abbe Raven and Dubuc, both of whom championed the project. AETN, owned by a consortium comprised of Hearst, Disney-ABC Television Group and NBC Universal, enjoyed its most-watched year ever in 2010, with its six Nielsen-rated networks posting combined year-over-year viewership growth in each quarter. In addition, History is now a Top 5 cable network in all demos, fueled by hit original series such as Pawn Stars and Ice Road Truckers.

The Kennedys cancellation somewhat mirrors the fate of The Reagans, a miniseries that was to air on CBS in 2003 but was scrapped when advertisers threatened to boycott after conservatives raised concerns about depictions of former president Ronald Reagan being insensitive to AIDS victims. The Reagans later aired on Showtime.

THR has learned that producers of The Kennedys might make a similar move to bring the miniseries to a pay cable channel.