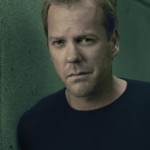 Looks like Kiefer Sutherland may be returning to TV in another drama pilot for FOX! While that is certainly surprising and exciting news, what does it mean for the 24 movie? Probably not good news.
As fans of 24 already know, shooting a television series for ten months out of the year doesn't leave much time to complete a film. If Kiefer were confident about production on the movie starting in the next couple of months, he probably wouldn't be looking for lead television roles.
EXCLUSIVE: Kiefer Sutherland is mulling a return to primetime with another Fox drama. The 24 star is in negotiations to topline drama pilot Touch, from Heroes creator Tim Kring. Like 24, Touch is produced by 20th Century Fox TV. Co-produced by Chernin Entertainment, Touch centers on a father (the role Sutherland has been offered) who discovers that his autistic, mute son can predict events before they happen. Kring wrote the project on spec, his first pilot script since Heroes. Charles McDougall, who has helmed the pilots for ABC's Desperate Housewives, ABC's The Good Wife and, most recently, Fox's The Chicago Code, is in talks to direct.

Complicating things are Sutherland's duties on Broadway where he currently stars in a revival of the Jason Miller's That Championship Season. The play, which marks Sutherland's Broadway debut, opened last week. In order for Sutherland to be able to do Touch, its production may have to be pushed. Sutherland, repped by CAA and Management 360, spent eight seasons on 24 playing CTU agent Jack Bauer. It became his signature role and earned him an Emmy Award in 2006.