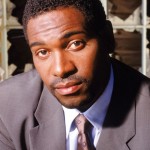 Congrats to 24's Mykelti Williamson who has just landed a huge part in FX's Justified, playing a villain.
Fans of FX's Justified have been wondering since May's second season finale how producers would match Margo Martindale's Emmy-winning performance as Mags Bennett. Well, now we know: Desperate Housewives' Neal McDonough and 24's Mykelti Williamson, who both starred on Justified EP Graham Yost's brilliant-but-canceled NBC drama Boomtown, have been cast as the awesomely named big bads of season 3.

McDonough will recur as Quarles, a Detroit mobster in a sharp suit who comes to Kentucky with visions of becoming a crimelord. Williamson will play Limehouse, a man who lives in a small black town in Harlan County and who will do whatever it takes, legal or otherwise, to protect his holler.