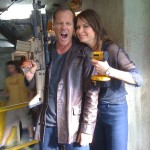 Mary Lynn Rajskub was interviewed on the Marc Macon podcast and she was briefly asked about the 24 movie (nothing new on that front) and working with Kiefer Sutherland. When asked whether she got along with her co-star, she at first hesitated to answer with an "Ummm.." and then continued:
Kiefer and I like each other; I would go so far as to say we love each other in that respect. But at the same time… I really care about him, but our relationship never changed, it never went past a certain point. I think I was always a little bit intimidated by him. He would probably say, "Oh why would you be [intimated]?" Um… But we never fully hung out or fully had a conversation the entire time. And a lot of other people who were on the crew and the cast it was like a family that you watched [over] the course of doing that intense show, that many years. You've watched marriages and deaths and births and you do get to know everybody.
Here is the six minute segment that discusses 24 fans and Kiefer:
For the entire interview check out episode 229 of the WTF with Marc Maron Podcast.