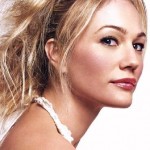 Deadline reports that 24's Sarah Wynter, who played Kate Warner in the second season, has been cast in a recurring role for the sixth season of Californication – she will appear in at least six episodes. Congrats, Sarah!
EXCLUSIVE: Sarah Wynter (24) has been tapped for a recurring role on the next season of Showtime's dark comedy series Californication. The Australian actress will play the wife of rock star Atticus Fetch, played by another Aussie, Tim Minchin. Described as Bowie, Bono and Lennon all rolled up into one, Fetch has been drafted to write the music for the Broadway musical, A Crazy Little Thing Called Love, which is based on the hit romantic comedy of the same name adapted from Hank Moody's (David Duchovny) breakthrough novel God Hates Us All.

Wynter, repped by Paradigm and Mosaic, is set to appear in at least six episodes. After scaling back work over the past four years to give birth to three boys, Wynter is returning to acting full-time.