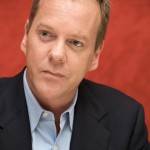 News on the 24 movie has been a little sparse lately, but Kiefer has again confirmed it will happen and that he's "very anxious to get it done". Just like I'm sure us 24 fans are very anxious to watch!
Q: Are you still hoping to start work on the movie version of '24'?
I've been working very hard to make that happen. The process has taken us so long because it's such a complicated script to write. Normally, we have '24' hours to tell a story. Trying to condense it into two hours involves a lot of hard choices: What kind of story do you want to tell? How political do you want to make it? How character-driven do you want to make it? But now we have a good script. The problem is my work on 'Touch' now and whether we can find a big enough window to shoot the film. The film will pick up with Jack Bauer six months after the end of the final TV episode. The action will unfold in the course of a single 24-hour day. We still need to find a director and see which actors from the series would be available to return to do the film with me. The film is going to happen – I'm very anxious to get it done.

Q: Do you worry that audiences will forget about Jack Bauer the more time that goes by?
No. I think audiences still remember the series and have a huge interest in seeing what a film version would be like. People still tell me how much they loved Jack Bauer and I think audiences appreciated that he wasn't a typical hero-type and had many flaws and contradictions. We'll also have a lot more creative freedom and possibilities doing the film as opposed to the kinds of limitations you have when doing a TV series in real time.