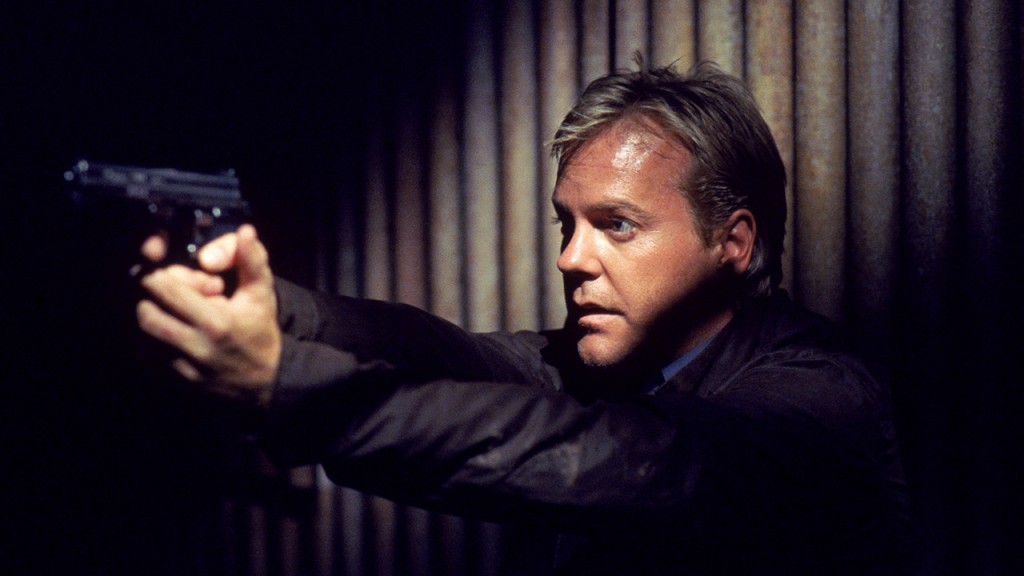 (CNN) — They're not working 24 hours a day, but Bob Cochran and Joel Surnow, executive producers of the new FOX series "24," are definitely working hard.
An hour late for their phone interview due to on-set responsibilities at the Los Angeles production, Cochran, in particular, tells how he's been working into the early morning for the past 10 days.
And Surnow offers this excuse for being late: "I was trying to get myself fired from the show, so I can do a show that's not so difficult."
He's kidding. Who would want to be fired from the show that owns some of the biggest buzz this fall season?
"24" is an espionage thriller starring Kiefer Sutherland as a CIA operative who must stop the pending assassination of a presidential candidate, and also track down his missing teenage daughter.
Adding drama (and originality) to the script is the way it's presented — each story unfolds in real time, an episode covering one hour in one day, so that by the 24th and final episode, one single, sleepless day will have unfolded before viewers.
"It's one of those ideas that once you hear it, you say, 'Hey that's great,'" says Cochran.
Actually, Cochran said something else when Surnow called him one day in July of last year and pitched the idea.
Too many cop shows?
"I said, 'That's great, but it's impossible,'" Cochran recalls. "'My head hurts just thinking about it. Don't talk to me about that again.'"
But Surnow called the next day, and soon the pair — who worked together on the last season of "Falcon's Crest" and have kept their creative partnership alive through shows like "La Femme Nikita" — started hammering out ideas.
The show comes at a time when espionage seems to be the Hip New Storyline for networks. ABC has "Alias"; CBS has "The Agency."
But Cochran and Surnow says their work on "Nikita," a slick spy drama that aired on USA, led them to realize the possibilities of code names and terrorist antagonists before it was popular with the major networks.
"We knew this was a great area to mine," says Surnow. "It seems like the cop show genre has played itself out for the time being. This felt like really great territory."
Sutherland's 'dark side'
Meantime, Sutherland, as the center point of the storyline, offers the show a unique authenticity. He's spent most of his career on the silver screen; this is his first TV series.
Cochran says Sutherland brings an extra quality to his character — an agent/dad with major responsibilities to attend.
"On screen, he certainly has an edge, and he has a dark side to him," Cochran says. "He's played a lot of villains. You get a guy like that and you put him in a role that's essentially heroic and he naturally takes on the heroism of the role.
"But Kiefer brings that sort of dark side with him and it's a tremendous sense of three-dimensionality and layers and complexity. He's a good guy, you root for him, but you know he has demons," says Cochran.
Time will tell if "24" can stay away from the demons of cancellation, and win over the viewers.