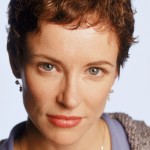 LOS ANGELES, California (AP) — The real-time Fox thriller "24" is getting a second life on DVD — and so is the TV show's co-star, Leslie Hope.
Hope's character, the wife of star Kiefer Sutherland's embattled counterterrorism agent, was killed off in the final moments of the season finale.
The DVD release includes an alternate ending with a happier outcome.
The plot involves Sutherland's efforts to stop a conspiracy to kill a black U.S. senator who is running a successful campaign for president. Along the way, his investigator crosses ethical boundaries and commits some sinister acts in the name of good.
Although Hope has expressed disappointment at being eliminated from the second season, she said Friday she agrees with producers that the darker ending was better.
"As much as I loved that job and would have been happy to stay on, a happy ending wouldn't be the right way to go," she said.
Fans who were angry can compare the two conclusions and judge for themselves, she added.
"I think to have me survive and walk off into the sunset with the hero would have made the show ordinary in a way," Hope said. "There was something more poignant in killing my character. There's a cost for him to pay."
The second season of "24," in which each hour of the season aligns with one hour of the daylong story, is set to debut October 29.
The DVD of the first season — nominated for 10 Emmys this month, including best drama series — is set to debut September 17.