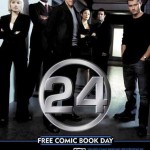 Fox TV's series 24 is noted for its innovative use of time and its fast-paced, exciting stories. Now IDW Publishing will break new ground by releasing a 24 comic book one-shot mirroring the show's use of the time element.

Two pages of printed story will equal one hour of time elapsed in this 48-page one shot. Handling the clock and the story will be J.C. Vaughn and Mark L. Haynes. Art will by by CSI: Miami artist, Renato Guedes.

The story is called 24: One Shot. In it, CTU agent Jack Bauer has to protect a beautiful and deadly terrorist for twenty-four hours, but after an attack by her former friends, he has only one bullet left in his gun.

"We at IDW are big fans of the series 24," IDW editor-in-chief Jeff Mariotte said. "We had some difficulty at first trying to figure out how the ticking clock element, so crucial to the show, would work on the printed page. But J.C. Vaughn and Mark Haynes had some ideas, and they convinced us that it could work. We teamed them up with Renato Guedes, who does some of the best actor likenesses ever, and we think the book will be every bit as entertaining as the TV series."

24: One Shot will be a 48-page, full color, squarebound graphic novella, on sale in July, with a retail price of $6.99. Promotion will include an excerpt in a Free Comic Book Day release.
Source: Comics Continuum