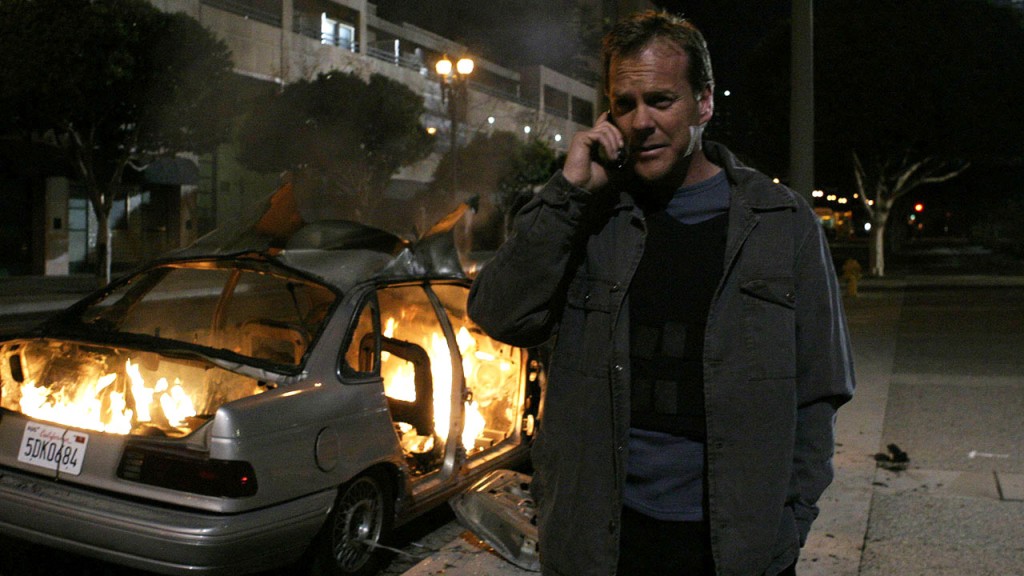 JACK LOOSENS HIS CONTROL OF AMADOR SO HE CAN ESCAPE, CTU IMPOSES A QUARANTINE AT A LOS ANGELES HOTEL ON "24" MARCH 30 ON FOX

9 Originals in a Row to Season Finale

Jack loosens his control of Amador in order to find out who he's working for. Meanwhile, one of 12 vials containing the virus has been planted inside a Los Angeles hotel, prompting CTU to impose a total quarantine of the building in the episode "Day 3: 4:00 AM – 5:00 AM" Tuesday, March 30 (9:00-10:00 PM ET/PT) on FOX. (TWF-316) (TV-14; V) Note: this episode begins nine in a row to the season finale in May.

Cast: Kiefer Sutherland as Jack Bauer, Dennis Haysbert as President David Palmer, Elisha Cuthbert as Kimberly Bauer, Reiko Aylesworth as Michelle Dessler, Carlos Bernard as Tony Almeida, James Badge Dale as Chase Edmunds.

Guest Cast: DB Woodside as Wayne Palmer, Mary Lynn Rajskub as Chloe, Zachary Quinto as Adam Kaufman, Greg Ellis as Michael Amador, Penny Johnson Jerald as Sherry Palmer, Paul Schulze as Ryan Chappelle, Lothaire Bluteau as Marcus Alvers, Jesse Borrego as Gael, Paul Blackthorne as Stephen Saunders, Doug Savant as Craig Phillips, J D Cullum as Bruce Margolis.