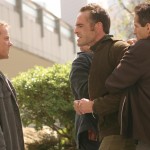 SAUNDERS TELLS JACK 11 VIALS OF VIRUS WILL BE RELEASED, SHERRY MAKES HER MOVE TO BE MRS. PALMER AGAIN ON "24" MAY 18 ON FOX

Saunders tells Jack that the remaining 11 vials containing the virus are to be released within the hour. Meanwhile, Sherry makes a play to be Mrs. David Palmer once again in the episode "Day 3: 11:00 AM–12:00 PM" Tuesday, May 18 (9:00-10:00 PM ET/PT) on FOX. (TWF-323) (TV-14; V)

Cast: Kiefer Sutherland as Jack Bauer, Dennis Haysbert as President David Palmer, Elisha Cuthbert as Kimberly Bauer, Reiko Aylesworth as Michelle Dessler, Carlos Bernard as Tony Almeida, James Badge Dale as Chase Edmunds.

Guest Cast: DB Woodside as Wayne Palmer, Penny Johnson Jerald as Sherry Palmer, Mary Lynn Rajskub as Chloe, Paul Blackthorne as Stephen Saunders, Zachary Quinto as Adam Kaufman, Alexandra Lydon as Jane Saunders, Geoff Pierson as Sen. Keeler, Randle Mell as Brad Hammond, Gina Torres as Julia Milliken, Glenn Morshower as Agent Pierce, Mark Rolston as Bruce Foxton.