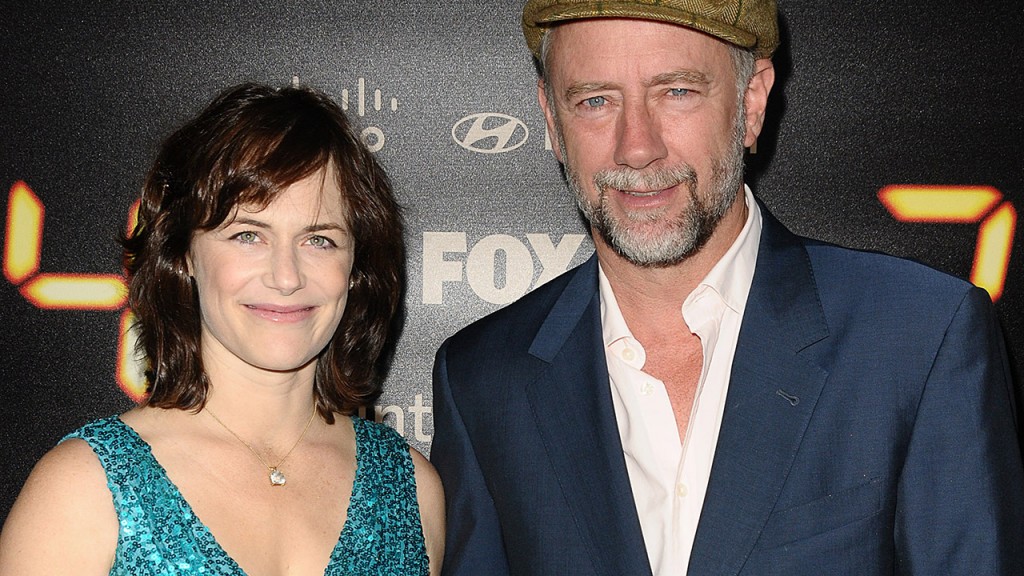 No discussion of 24 beyond the second paragraph, but an interesting interview with these two lovebirds. Thanks to Maria from Sarah-Clarke.net for translating.
Xander Berkeley and Sarah Clarke, the stars from the TV serie "24" show their home in the Hollywood Hills.

The bordeaux-coloured steps linger up the slope like a red carpet to the castle of Sleeping Beauty to the villa in old-Spanish style. The palm trees, the ferns and flowers along the stairway establish the feeling of being in a fairy tale or on a tropical island. In any case far away from the hustle of the big city. But in fact the metropolis Los Angeles pulsate only a couple of hundred meters below. And up here on the hill, close to the Hollywood sign, lives no enchanted royal family only the actor-couple Xander Berkeley and Sarah Clarke.

Nevertheless there is something magic in their lives – the number 24: "Our house was built in 1924, Sarah and I met during filming of the show 24 and preferably I would stay with her in our cosy bed 24 hours a day," says Xander and grins.

The 45-year old actor, who has had more than 40 movie roles in blockbusters such as "Terminator 2", "Apollo 13", "Leaving Las Vegas" and Wolfgang Petersen's "Air Force One", and played mostly villains, shady characters and police officers, was considered the confirmed bachelor in Hollywood. Until three years ago, during filming for the hit show "24", when 32 year-old Sarah Clarke crossed his path.

In front of the camera, as Agent George Mason, he tried to stop Sarah, alias Nina Myers, from attempting to assassinate the president. Out of the spotlight it was Xander who perpetrated the attempt. Romantically. He did it irrespective of Sarah's heart. And he was successful. The born Canadian and Clarke, from St Louis Missouri, held their relationship secret for nearly a year. Xander's house, in which he lived alone, became their hideout and love nest. "Immediately I felt so comfortable there. It really has a quite particular charm." remembers Sarah.

Xander bought the house 12 years ago from Canadian actor for 460000 dollar. Now the houses in these parts cost at least three times that amount.

"The houses here are substantially older than the palaces in Beverly Hills. They were built in the 20's and 30's specifically for European film makers in a Mediterranean style, to lure these people with the feeling of home." And Sarah says: "For example, in our house lived the legendary actress Spring Byington. Until her death in 1971 she threw wild parties with her friends Barbara Stanwyck and Katharine Hepburn. And sometimes, when the wooden floors make strange noises in the middle of the night and the old window frames crack softly, you get the feeling that their souls walk through the old house."

But both of them love the mysterious atmosphere of ancient times. From a tour through the five rooms, distributed over two floors, it's not hard to see that Sarah and Xander have a genuine passion for antique objects. "We both grew up in New York, where there is more of a cultural history than in the comparatively young Los Angeles. Therefore we have kept our furnishings antique-rustic – with a touch of Moroccan style. We have imported culture to Hollywood so to speak," says Xander and smiles. From filming in all parts of the world he has brought mementos that are dispersed all over the house. Tiles from Portugal, arm chair in leather from a Men's club in Switzerland, candlesticks from Italy, a wooden horseman from Arkansas, carpets from Turkey, lamps from Mexico, Buddha statue and a teak door from India. Sarah's nightstand is decorated with an iron lamp from Germany made in Essen 1967. And last year on their honeymoon trip, going cross country by car from New York, they found every conceivable flea market to hunt down more antiquities from their home.

"When Sarah moved in with me, we renovated and redecorated every room in the house for nearly a year and a half." tells Xander. The bathroom was enlarged and additional space for a walk in closet was created. Actually a wall had to go. He let a specialist paint the bedroom and Sarah's study on the top floor in shades of yellow using a complex Fresco technique. And on the walls hangs numerous pencil drawings, made by the lord of the manor himself in his studio beneath the roof. He has inherited the artistic talent from his father, Peter. One of his famous animal portraits has the place of honour in the living room!

Especially the arrangement of the garden gave Xander a great deal of trouble. "I made the front area tropical together with a friend who's a landscaper. The back garden is simple with native plants." With that he ingeniously used the layers of the premises and created 4 terrace-like levels in which Rosemary and wildflowers grow.
"We arrange little concert evenings there regularly, with musician friends and local bands. They play in candlelight under a huge Eucalyptus tree and the audience listen from a different level – it is fabulous atmosphere" raves Xander.

Sarah and Xander's garden is an idyl, the house seems cosy and liveable. "But nevertheless we still have a couple of ideas, that we want to realize bit by bit." says Xander. To build a garden and furnish a house is a long process, which maybe doesn't have an end. But it will evolve our relationship to perfection.