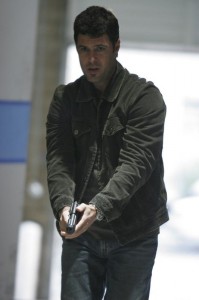 CTU RACES AGAINST TIME TO STOP NUCLEAR MELTDOWNS, JACK REACHES OUT TO AN OLD FRIEND, MARIANNE DRAWS SUSPICION ON "24" MONDAY, JANUARY 31, ON FOX

CTU races against time to prevent the terrorists from melting down nuclear power stations across the U.S. Meanwhile, Jack reaches out to an old friend for help; and Sarah gets suspicious about Marianne in the episode "Day 4: 1:00 PM-2:00 PM" Monday, Jan. 31 (9:00-10:00 PM ET/PT) on FOX. (TWF-407) (TV-14 V)

Cast: Kiefer Sutherland as Jack Bauer, William Devane as James Heller, Kim Raver as Audrey Raines, Alberta Watson as Erin Driscoll, Lana Parrilla as Sarah Gavin.

Guest Cast: Aisha Tyler as Marianne Taylor, Nestor Serrano as Navi Araz, Shohreh Aghdashloo as Dina Araz, Jonathan Ahdout as Behrooz Araz, Roger Cross as Curtis Manning, Louis Lombardi as Edgar Stiles, Geoff Pierson as John Keeler, Robertson Dean as Henry Powell, Logan Marshall Green as Richard Heller, James Frain as Paul Raines, Kelvin Han Yee as Craig Erwich, Angela Goethals as Maya Driscoll, Arnold Vosloo as Habib Marwan.