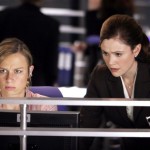 JACK USES DINA TO CONTACT MARWAN, NEW CTU DIRECTOR BRINGS IN SPECIALIST TO ASSIST EDGAR ON "24" MONDAY, MARCH 21, ON FOX

Jack plans to use Dina to contact Marwan. Meanwhile, CTU's new director brings in a satellite specialist to assist Edgar in the episode "Day 4: 8:00 PM-9:00 PM" Monday, March 21 (9:00-10:00 PM ET/PT) on FOX. (TWF-414) (TV-TBA)

Cast: Kiefer Sutherland as Jack Bauer, William Devane as James Heller, Kim Raver as Audrey Raines, Lana Parrilla as Sarah Gavin.

Guest Cast: Shohreh Aghdashloo as Dina Araz, Jonathan Ahdout as Behrooz Araz, Carlos Bernard as Tony Almeida, Louis Lombardi as Edgar Stiles, James Frain as Paul Raines, Arnold Vosloo as Marwan, Geoff Pierson as President Keeler, Adam Alexi-Malle as Joseph Fayed, David Adnriole as John Hansen, Amy Benedict as Laurie Hansen, Ned Vaughn as Mitch Anderson.