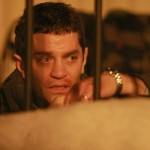 JACK AND PAUL ARE HUNTED BY SOLDIERS, DRISCOLL'S REPLACEMENT TAKES OVER AT CTU ON "24" MONDAY, MARCH 14, ON FOX

Jack and Paul are hunted down by soldiers after an electromagnetic pulse bomb wipes out every electrical device for miles. Meanwhile, Erin Driscoll's replacement takes over at CTU in the episode "Day 4: 7:00 PM-8:00 PM" Monday, March 14 (9:00-10:00 PM ET/PT) on FOX. (TWF-413) (TV-TBA)

Cast: Kiefer Sutherland as Jack Bauer, William Devane as James Heller, Kim Raver as Audrey Raines, Lana Parrilla as Sarah Gavin.

Guest Cast: Carlos Bernard as Tony Almeida, Roger Cross as Curtis Manning, Louis Lombardi as Edgar Stiles, Cameron Bancroft as Lee Castle, James Frain as Paul Raines, Arnold Vosloo as Marwan, Geoff Pierson as President Keeler, Tomas Arana as Dave Conlon, Amin Azemzadeh as Naji, Omid Abtahi as Safa, Ned Vaughn as Mitch Anderson.