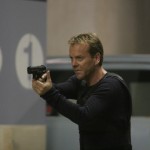 JACK MAKES HIS MOVE TO CAPTURE NAVI, AUDREY FINDS OUT PAUL MAY BE INVOLVED IN TERRORISTS' PLOT ON "24" MONDAY, FEBRUARY 21, ON FOX

Jack makes his move to capture Navi. Meanwhile, Audrey learns her estranged husband Paul may be involved in the terrorists' plot in the episode "Day 4: 4:00 PM-5:00 PM" Monday, Feb. 21 (9:00-10:00 PM ET/PT) on FOX. (TWF-410) (TV-14 V)

Cast: Kiefer Sutherland as Jack Bauer, William Devane as James Heller, Kim Raver as Audrey Raines, Alberta Watson as Erin Driscoll, Lana Parrilla as Sarah Gavin.

Guest Cast: Carlos Bernard as Tony Almeida, Aisha Tyler as Marianne Taylor, Nestor Serrano as Navi Araz, Shohreh Aghdashloo as Dina Araz, Jonathan Ahdout as Behrooz Araz, Roger Cross as Curtis Manning, Louis Lombardi as Edgar Stiles, Cameron Bancroft as Lee Castle, James Frain as Paul Raines, Angela Goethals as Maya Driscoll, Arnold Vosloo as Marwan, Robert Catrini as Mr. Weissman, David Newsom as Scott Borman, Richard Marcus as Forbes.