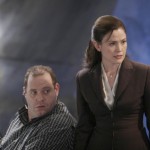 JACK AND PAUL TRACE WHEREABOUTS OF TERRORIST LEADER, HELLER BRINGS IN A REPLACEMENT FOR ERIN AT CTU ON "24" MONDAY, MARCH 7, ON FOX

Jack and Paul trace terrorist leader Habib Marwan to Paul's company headquarters, but face resistance when they arrive. Meanwhile, a tragic loss for Erin prompts Heller to bring in a replacement to take charge at CTU in the episode "Day 4: 6:00 PM-7:00 PM" Monday, March 7 (9:00-10:00 PM ET/PT) on FOX. (TWF-412) (TV-14 V)

Cast: Kiefer Sutherland as Jack Bauer, William Devane as James Heller, Kim Raver as Audrey Raines, Alberta Watson as Erin Driscoll, Lana Parrilla as Sarah Gavin.

Guest Cast: Carlos Bernard as Tony Almeida, Roger Cross as Curtis Manning, Louis Lombardi as Edgar Stiles, Cameron Bancroft as Lee Castle, James Frain as Paul Raines, Angela Goethals as Maya Driscoll, Arnold Vosloo as Marwan, Geoff Pierson as President Keeler, Tomas Arana as Dave Conlon, Bill Smitrovich as Gene McLennan, Albie Selznick as John Rese.