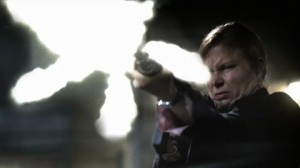 MARWAN STILL ON THE RUN, CHLOE FINDS HERSELF IN THE FIELD ON "24" MONDAY, APRIL 25, ON FOX

While Jack's interrogation techniques come into question, CTU operatives close in on Marwan. Meanwhile, Chloe is forced into field duty in the episode "Day 4: 1:00 AM-2:00 AM" Monday, April 25 (9:00-10:00 PM ET/PT) on FOX. (TWF-419) (TV-14 V)

Cast: Kiefer Sutherland as Jack Bauer, Kim Raver as Audrey Raines, Roger Cross as Curtis Manning

Guest Cast: Dennis Haysbert as David Palmer; Reiko Aylesworth as Michelle Dessler, Carlos Bernard as Tony Almeida, Mary Lynn Rajskub as Chloe, Louis Lombardi as Edgar Stiles, Arnold Vosloo as Marwan, James Morrison as Bill Buchanan, Jude Ciccolella as Mike Novick, Gregory Itzin as Charles Logan, John Allen Nelson as Walt Cummings, Cameron Bancroft as Lee Castle, John Thaddeus as Joe Prado, Tim Kelleher as Greg Merfield, Rick Garcia as News Reporter, Kirin Rao as Himkat, Lina Patel as Nabilla, Kris Iyer as Sabir, Keith Szarabajka as Robert Morrison, Stacy Solodkin as Presidential Aide.