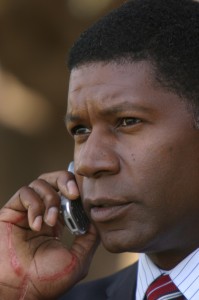 He may no longer be president, but David Palmer will be back on "24" this season as Los Angeles faces yet another terrorist crisis.

Dennis Haysbert, who played Palmer on the first three seasons of the FOX series, has signed on to a guest-starring arc this season, according to The Hollywood Reporter. He's set to appear in the final six episodes of the season.

He was one of several regulars who didn't return for "24's" fourth season, which is set 18 months after the end of last year and has federal agent Jack Bauer (Kiefer Sutherland) chasing Islamic militants out to murder the secretary of defense (new cast member William Devane) and wreak other havoc on Los Angeles.

The show's back story is that Palmer chose not to run for re-election after the death of his estranged wife, Sherry (Penny Johnson Jerald), last season. Geoff Pierson, who appeared in several episodes last season as Palmer's opponent, is now the president.

As with most things about "24," details of what Palmer's role will be within the show are being kept quiet.