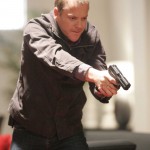 JACK BAUER BACKED BY ADMINISTRATION ON "24" MONDAY, FEBRUARY 6, ON FOX

When Agent Jack Bauer is realigned with the President's plan to track the looming terror threat, he navigates CTU to a new lead. While pursuing this lead, the threat intensifies when the hostiles up the stakes in the episode "Day 5: 1:00 PM-2:00 PM" Monday, Feb. 6 (9:00-10:00 PM ET/PT) on FOX. (TWF-507) (TV-14 V)

Cast: Kiefer Sutherland as Jack Bauer, Carlos Bernard as Tony Almeida, Kim Raver as Audrey Raines, Mary Lynn Rajskub as Chloe O'Brian, Roger Cross as Curtis Manning, Louis Lombardi as Edgar Stiles, James Morrison as Bill Buchanan, Gregory Itzin as President Logan, Jean Smart as First Lady Martha Logan.

Guest Cast: Connie Britton as Diane Huxley, Brady Corbet as Derek Huxley, Jude Ciccolella as Mike Novick, John Allen Nelson as Walt Cummings, Jonah Lotan as Spencer Wolff, Sandrine Holt as Evelyn, Sean Astin as Lynn McGill.