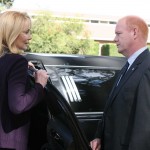 AS THE TERRORIST THREAT WORSENS, THE ADMINISTRATION COUNTERS ON "24" MONDAY, FEBRUARY 20, ON FOX

Although extremists attempted to derail the signing of the historic arms treaty between the United States and Russia, the signing proceeded and as a result, America has inherited some of Russia's enemies. The terrorist mastermind, billionaire Vladimir Bierko, intimidates the administration while autocratic CTU leader Lynn McGill comes under fire from President Logan in the episode "Day 5: 3:00 PM-4:00 PM" Monday, Feb. 20 (9:00-10:00 PM ET/PT) on FOX. (TWF-509) (TV-14 V)

Cast: Kiefer Sutherland as Jack Bauer, Carlos Bernard as Tony Almeida, Kim Raver as Audrey Raines, Mary Lynn Rajskub as Chloe O'Brian, Roger Cross as Curtis Manning, Louis Lombardi as Edgar Stiles, James Morrison as Bill Buchanan, Gregory Itzin as President Logan, Jean Smart as First Lady Martha Logan.

Guest Cast: Jude Ciccolella as Mike Novick, Nick Jameson as Yuri Suvarov, Kathleen Gati as Anya Suvarov, Julian Sands as Vladimir Bierko, Robert Maffia as Andrei, Geraint Wyn Davies as James Nathanson, Mark Sheppard as Ivan Erwich, Glenn Morshower as Agent Aaron Pierce and Sean Astin as Lynn McGill.