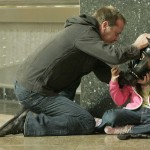 AGENT BAUER ATTEMPTS TO STOP DEADLY THREAT ON "24" MONDAY, FEBRUARY 13, ON FOX

Now that agent Jack Bauer has exposed and interrogated the administration's link to the terrorists, President Logan reinstates him to CTU on a provisional basis. Meanwhile, First Lady Martha Logan grapples with the positioning that her husband and advisors are planning to take to explain the horrific events unfolding. With few leads, CTU operatives and Agent Bauer attempt to keep the military grade nerve gas, Sentox, from taking innocent lives in the episode "Day 5: 2:00 PM-3:00 PM" Monday, Feb. 13 (9:00-10:00 PM ET/PT) on FOX. (TWF-508) (TV-14 V)

Cast: Kiefer Sutherland as Jack Bauer, Carlos Bernard as Tony Almeida, Kim Raver as Audrey Raines, Mary Lynn Rajskub as Chloe O'Brian, Roger Cross as Curtis Manning, Louis Lombardi as Edgar Stiles, James Morrison as Bill Buchanan, Gregory Itzin as President Logan, Jean Smart as First Lady Martha Logan.

Guest Cast: Connie Britton as Diane Huxley, Brady Corbet as Derek Huxley, Jude Ciccolella as Mike Novick, John Allen Nelson as Walt Cummings, Jonah Lotan as Spencer Wolff, Sandrine Holt as Evelyn, Sean Astin as Lynn McGill.