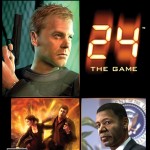 New York, NY – February 28, 2006 – 2K Games, a publishing label of Take-Two Interactive Software, Inc. (NASDAQ: TTWO), today announced that 24: The Game — the action title based on the hit Fox television series "24" starring Kiefer Sutherland — has shipped to retail stores across North America. 24: The Game is available exclusively for the PlayStation 2 computer entertainment system.
24: The Game features an unprecedented level of involvement from the team behind the groundbreaking television series. Many key actors and actresses from the series provided their likenesses and voice talents to 24: The Game including Kiefer Sutherland, Elisha Cuthbert and Carlos Bernard. In addition, the game's storyline has been written in collaboration with series story editor and staff writer Duppy Demetrius, with music composed by Sean Callery, an Emmy award-winner for his work on 24.
24: The Game delivers all the action and excitement you would expect to see in the hit 24 television series," said Christoph Hartmann, Managing Director for 2K Games. "It is an intense gaming experience with the same race-against-the-clock tension the show is well known for. 24: The Game also provides a valuable back story to the events happening between seasons two and three."
Elie Dekel, Executive Vice President, Fox Licensing and Merchandising, "I don't think there's another show out there that's better suited for a video game. Thanks to the contributions of the series star, Kiefer Sutherland, as well as the series' story editor and composer, this exciting video game promises to be authentically true to the television show and will delight even the most critical fan."
24: The Game enables gamers to take on multiple roles from the show including Jack Bauer, Tony Almeida and Chase Edmunds as they complete more than 50 solo and team-based missions that feature elements such as shooting, stealth and puzzle-based gameplay along with the ability to interrogate captured enemies to obtain vital information. The game designers have also incorporated many of the series' distinctive visual and audio features, including its innovative use of split-screen windows for simultaneous plot developments and a constant race against the 24-hour clock.
Offered exclusively for the PlayStation 2, 24: The Game is rated M for mature and will be available at retail stores across North America for a suggested retail price of $39.99.
For more information, please visit http://www.2kgames.com/24.