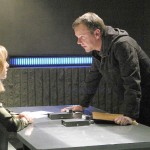 INTENSE AND PERSONAL HOUR FORCES JACK TO EXECUTE THE UNTHINKABLE ON "24" MONDAY, MARCH 27, ON FOX

When Jack Bauer interrogates the most recent link to terrorist mastermind Bierko, shocking secrets are revealed. Meanwhile, conflict between CTU and Homeland Security officials escalates while the terrorists threaten to boost the magnitude of their attack to incorporate hundreds of thousands of civilians in the all-new "Day 5: 9:00 PM-10:00 PM" episode of 24 airing Monday, March 27 (9:00-10:00 PM ET/PT) on FOX. (TWF-515) (TV-14 V)

Cast: Kiefer Sutherland as Jack Bauer, Carlos Bernard as Tony Almeida, Kim Raver as Audrey Raines, Mary Lynn Rajskub as Chloe O'Brian, Roger Cross as Curtis Manning, James Morrison as Bill Buchanan, Gregory Itzin as President Logan, Jean Smart as First Lady Martha Logan.

Guest Cast: Jayne Atkinson as Karen Hayes, Stephen Spinella as Miles Papazian, Peter Weller as Christopher Henderson, Ray Wise as Vice President Hal Gardner, Jude Ciccolella as Mike Novick, Stana Katic as Collette Stenger, Peter Weller as Christopher Henderson, Julian Sands as Vladimir Bierko, Glenn Morshower as Agent Aaron Pierce, Kate Mara as Shari Rothenberg, DB Woodside as Wayne Palmer and Martin A. Papazian as Rick Burke.