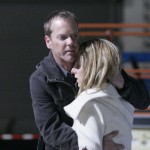 JACK AND AUDREY REUNITE WITH THE SECRETARY OF DEFENSE ON "24" MONDAY, APRIL 17, ON FOX

Although President Logan claims the country is no longer under attack, marital law is still enforced and CTU remains under intense pressure to find the remaining fugitives. Meanwhile, Jack, Audrey and Secretary of Defense James Heller reunite for a pivotal meeting on the all-new "Day 5: 12:00 AM-1:00 AM" episode of 24 airing Monday, April 17 (9:00-10:00 PM ET/PT) on FOX. (TWF-518) (TV-14 V)

Cast: Kiefer Sutherland as Jack Bauer, Kim Raver as Audrey Raines, Mary Lynn Rajskub as Chloe O'Brian, James Morrison as Bill Buchanan, Gregory Itzin as President Logan, Jean Smart as First Lady Martha Logan.

Guest Cast: William Devane as James Heller, Jayne Atkinson as Karen Hayes, Stephen Spinella as Miles Papazian, Peter Weller as Christopher Henderson, Ray Wise as Vice President Hal Gardner, Jude Ciccolella as Mike Novick, Peter Weller as Christopher Henderson, Glenn Morshower as Agent Aaron Pierce, Kate Mara as Shari Rothenberg, DB Woodside as Wayne Palmer.