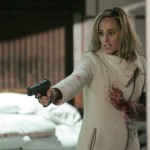 STAKES ARE RAISED AND AGENT BAUER INVESTIGATES NEW LEADS ON "24" MONDAY, APRIL 24, ON FOX

Agent Jack Bauer's intense interrogation uncovers both new leads and incriminating evidence, but his tactics have devastating consequences. Meanwhile, problematic President Logan faces more troubling issues on the all-new "Day 5: 1:00 AM-2:00 AM" episode of 24 Monday, April 24 (9:00-10:00 PM ET/PT) on FOX. (TWF-519) (TV-14 V)

Cast: Kiefer Sutherland as Jack Bauer, Kim Raver as Audrey Raines, Mary Lynn Rajskub as Chloe O'Brian, James Morrison as Bill Buchanan, Gregory Itzin as President Logan, Jean Smart as First Lady Martha Logan.

Guest Cast: William Devane as James Heller, Jayne Atkinson as Karen Hayes, Stephen Spinella as Miles Papazian, Peter Weller as Christopher Henderson, Ray Wise as Vice President Hal Gardner, Jude Ciccolella as Mike Novick, Peter Weller as Christopher Henderson, Glenn Morshower as Agent Aaron Pierce, Kate Mara as Shari Rothenberg, DB Woodside as Wayne Palmer.