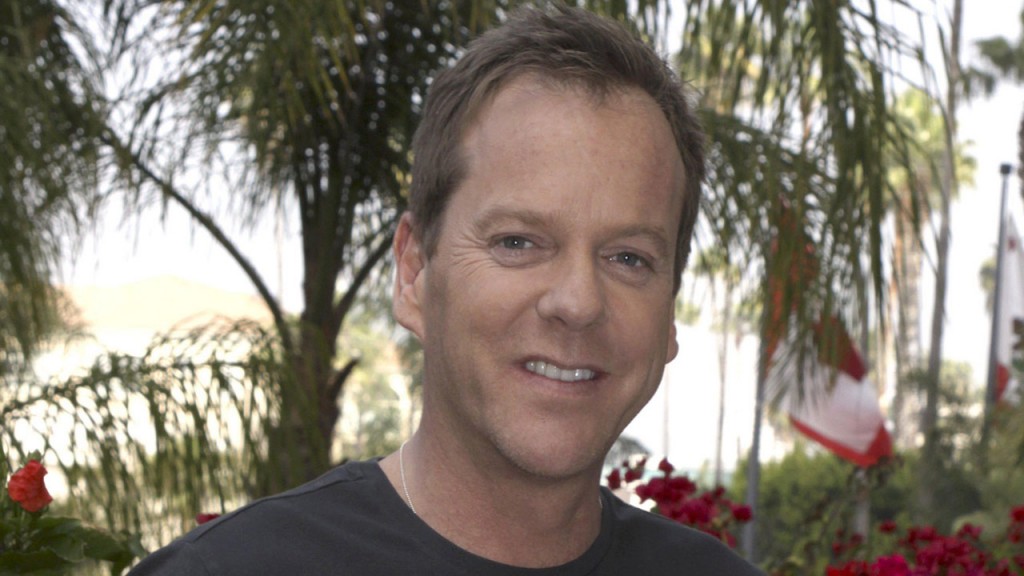 Over the course of five very long, nonconsecutive work days, Agent Jack Bauer has been caught up in vast conspiracies, massive terrorism plots and presidential scandals larger than anything the United States has ever seen. Now Kiefer Sutherland says his "24" character is finally going big time — and that some of his fan-favorite friends might rise from the dead for the occasion.

"The script is actually in development right now," Sutherland said excitedly Saturday, acknowledging plans for a movie version of his top-rated TV show. "It's something that we would shoot for doing next summer, during the next break."

Before fans raise the alert level to red, however, the 39-year-old star wants to assure them that Bauer's adventures will continue on screens both big and small. "I actually believe that they can co-exist," Sutherland said of the two projects. "The series can go and the films can go — or film — can go."

Leaving open the possibility of several big-screen Bauer missions, the veteran star then explained that the first "24" flick will not be 24 hours long but will instead offer a Reader's Digest-like summary of a whole new day from hell. "The '24' movie would be a two-hour representation of a 24-hour day," revealed the actor, who also stars in the similarly themed drama "The Sentinel" later this month. "That would be the first time that we would not do something in real time, but the characters would obviously all be derivative of the show."

As "24" fanatics know, the time spans of each 24-hour period can vary wildly, a device that Sutherland cites as one reason why the "24" movie will defeat the big-screen terror that took down silver-screen versions of shows like "The X-Files" and "Firefly."

"If we ended up doing [the movie] as a prequel and going back before the first season, obviously there's a lot of things that could change. If we go for it much further down the line from where the show is, again, there's a lot of room to change. It depends on the timing that they choose to set the film in."

"[The timing issue] is something the writers are working on right now," Sutherland added. "But the sky's the limit at that point for them, because we would not be restricted by the time element."

The possibility of a prequel will undoubtedly set the fingers of chat-room-savvy fans wiggling on their keyboards faster than Chloe data-mining a thumb drive. It could hearken back to a time when Jack was actually still collecting a paycheck from the Counter-Terrorism Unit and, as Sutherland happily acknowledged, when memorable characters such as President Palmer (Dennis Haysbert), Victor Drazen (Dennis Hopper) or Tony Almeida (Carlos Bernard) were still alive. It would also, most definitely, guarantee a return of Bauer's ill-fated wife, Teri (Leslie Hope).

"That's been the hardest part about the show," admitted Sutherland, who recently signed a deal that will extend the Fox drama for three more years and elevate him to the position of executive producer. "Leslie Hope … became a great friend of mine. When you find an actor that you can work with like that, and have that kind of faith with, the idea of having to let them go is really painful."

Another old friend Sutherland says he would love to work with again is Louis Lombardi, whose schlubby Edgar Stiles had evolved into a breakout character until a recent brush with nerve gas led to his shocking death. "That was hard," Sutherland said of the decision to dispatch Stiles. "God, he played that scene well. I remember I was standing by the monitor and, obviously, I wasn't in that sequence. I had just come in and I was getting ready to do something after that. I just caught the tail end of it. I watched him do that scene and my heart broke.

"I walked up to him afterwards and I said, 'I think that's some of the finest work I've ever seen,' " Sutherland continued. "He went, 'Really?' and I went, 'Yeah.' And he just went, 'Oh, damn. Well, now I've got to go.' "

Between seasons four and five, Jack Bauer was able to return from the dead; next summer, as "24" sets the clock ticking on a big-screen adaptation, perhaps a few of his old acquaintances can do the same.