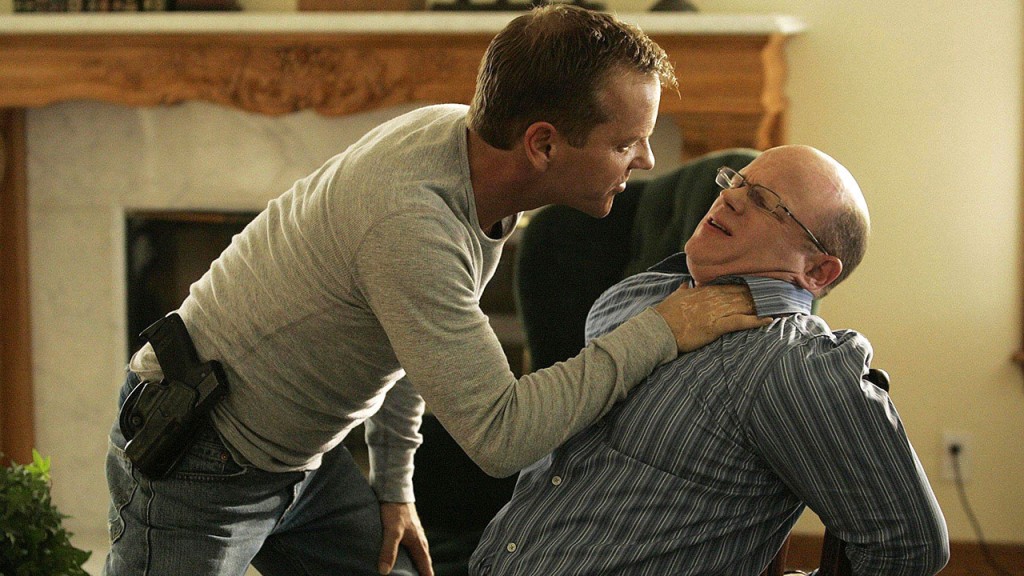 JACK FACES HIS FAMILY WHILE THE COUNTRY FACES A WORSENING DAY ON "24" MONDAY, JANUARY 29, ON FOX

As the nightmarish morning ticks toward what appears to be another long afternoon for Jack, the untimely and surprising faces of his family surface. Meanwhile the country reels from the threatening situation and additional terror attacks. Savvy politico Reed Pollack and Thomas Lennox strategize while President Wayne Palmer attempts to sort out a sticky situation on the "Day 6: 11:00 A.M.-12:00 P.M." episode of 24 Monday, Jan. 29 (9:00-10:00 PM ET/PT) on FOX. (TWF-606) (TV-14 V)

Cast: Kiefer Sutherland as Jack Bauer, Mary Lynn Rajskub as Chloe O'Brian, James Morrison as Bill Buchanan, DB Woodside as President Wayne Palmer, Jayne Atkinson as Karen Hayes, Carlo Rota as Morris O'Brian, Peter MacNicol as Thomas Lennox, Regina King as Sandra Palmer, Eric Balfour as Milo Pressman and Marisol Nichols as Nadia Yassir.

Guest Cast: James Cromwell as Phillip Bauer, David Hunt as Darren McCarthy, Chad Lowe as Reed Pollock, Adoni Maropis as Abu Fayed, Alexander Siddig as Hamri Al-Assad and Harry Lennix as Walid Al-Rezani.