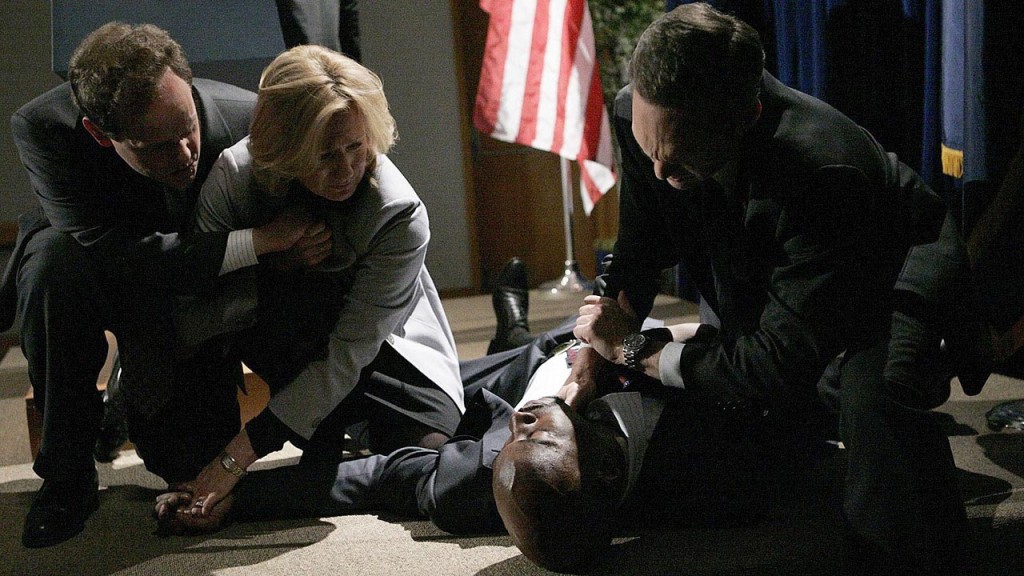 JACK COPES WITH SHOCKING DEVELOPMENTS AND AN INTENSIFYING TERROR THREAT ON "24" MONDAY, APRIL 16, ON FOX

After Jack Bauer and Agent Doyle team up in an attempt to prevent the advancement of the terror threat facing the country, Jack is jarred from an unforeseen development. Meanwhile, CTU shifts its focus as President Wayne Palmer rattles the Administration and the terror threat escalates in the "Day 6: 11:00 P.M.-12:00 A.M." episode of 24 Monday, April 16 (9:00-10:00 PM ET/PT) on FOX. (TWF-618) (TV-14 V)

Cast: Kiefer Sutherland as Jack Bauer, Mary Lynn Rajskub as Chloe O'Brian, James Morrison as Bill Buchanan, DB Woodside as President Wayne Palmer, Jayne Atkinson as Karen Hayes, Carlo Rota as Morris O'Brian, Peter MacNicol as Thomas Lennox, Regina King as Sandra Palmer, Eric Balfour as Milo Pressman and Marisol Nichols as Nadia Yassir.

Guest Cast: Powers Boothe as Vice President Noah Daniels, Chad Lowe as Reed Pollock, Adoni Maropis as Abu Fayed, Ricky Schroder as Mike Doyle and Rade Sherbedgia as Dmitri Gredenko.