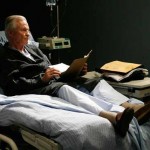 TIME IS TICKING AWAY FOR JACK BAUER ON "24" MONDAY, MAY 4, ON FOX

While lives remain on the line, an emotional Chloe copes with the declining conditions. With only a few hours left in Jack Bauer's day, the situation worsens when the politicking inside the White House corners the divided administration in the "Day 7: 4:00 AM-5:00 AM" episode of 24 airing Monday, May 4 (9:00-10:00 PM ET/PT) on FOX. (TWF-721) (TV-14 V)

Cast: Kiefer Sutherland as Jack Bauer, Mary Lynn Rajskub as Chloe O' Brian, James Morrison as Bill Buchanan, Janeane Garofalo as Janis Gold, Cherry Jones as President Allison Taylor, Carlos Bernard as Tony Almeida, Annie Wersching as Renee Walker, Colm Feore as Henry Taylor, Bob Gunton as Ethan Kanin, Rhys Coiro as Sean Hillinger and Jeffrey Nordling as Larry Moss

Guest Cast: Jon Voight as Jonas Hodges; Elisha Cuthbert as Kim Bauer; Michael Rodrick as Stokes; Sprague Grayden as Olivia Taylor; Glenn Morshower as Aaron Pierce; Will Patton as Alan Wilson; Karim Price as Med Tech; Gabriel Casseus as Galvez; Carlo Rota as Morris O'Brian.