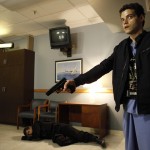 TENSION SURGES WHEN JACK BAUER CLOSES IN ON A KEY LEAD
AND PRESIDENT TAYLOR MEETS WITH OMAR HASSAN ON AN ALL-NEW "24"
MONDAY, MARCH 1, ON FOX

As the terror threat continues, the Hassan family turmoil fans the flames of the increasingly urgent situation. When Jack closes in on a person of significant interest, an already tense meeting between President Taylor and Omar Hassan takes an unexpected turn in the all-new "Day 8: 1:00 AM-2:00 AM" episode of 24 airing Monday, March 1 (9:00-10:00 PM ET/PT) on FOX. (TWF-810) (TV-14 S, V)

Cast: Kiefer Sutherland as Jack Bauer; Mary Lynn Rajskub as Chloe O'Brian; Cherry Jones as Allison Taylor; Annie Wersching as Renee Walker; Anil Kapoor as Omar Hassan; Mykelti Williamson as Brian Hastings; Chris Diamantopoulos as Rob Weiss; Katee Sackhoff as Dana Walsh; Freddie Prinze Jr. as Cole Ortiz; John Boyd as Arlo Glass

Guest Cast: Akbar Kurtha as Farhad Hassan; Necar Zadegan as Dalia Hassan; Nazneen Contractor as Kayla Hassan; Mido Hamada as Samir; Ethan Rains as Ali; Rami Malek as Marcos Al-Zacar; Frank John Hughes as Tim Woods; Ryan Cutrona as Admiral Smith; Scott Lawrence as Dr. Ben Landry; Mare Winningham as Elaine Al-Zacar; Steve Filice as Agent Rahim; Sashi Bommakanty as IRK Aide; Julian Morris as CTU Agent Owens; T.J. Ramini as Tarin Forush; Hrach Titizian As Nabeel; Matt Yang Kin as CTU Agent King; Jüergen Prochnow as Sergi Bazhaev; Clayne Crawford as Kevin Wade
Whoa, quite a few familiar faces from Season 7 in this episode – Tim Woods, Admiral Smith, and Ben Landry. Ben Landry's return is perhaps the most interesting considering the role he played last season (director of the Center for Disease Control and responsible for updating President Taylor on Jack Bauer's sickness).