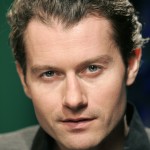 So the news a few weeks ago about momentum building around a movie adaptation wasn't idle talk. But which characters will return? Sutherland's Jack Bauer of course. But who else? Perhaps Chase Edmunds, who was played by "The Pacific" star James Badge Dale?

Chase Edmunds was a notable character during the show's third season. He was Jack's partner while also secretly dating his daughter, Kim (a bold, risky move– I wouldn't want Sutherland pissed at me). He was quite the badass throughout the season… until he lost his hand keeping the world safe from terror. The last time we saw Chase, he was being wheeled away to hopefully have that hand of his reattached.

I asked Badge in a recent interview if we might see Chase come back for a "24" movie and what has character has been up to since we last saw him. "I think Chase is out of shape by now," he said. "It's been a long time. He's been eating, he's got one hand, he's a single father. That wears on you man. I think Chase is balding, sitting in a recliner, driving a minivan."

Sooooooo… no more badass Chase? That's what it sounds like. I wonder if Badge's tune will change once the producers approach him to join the movie. It would almost be better if it doesn't but still appears in the movie, I think.