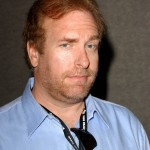 Fox's ambitious "Terra Nova" is losing one of its big-name writer-producers. Sources say "24" veteran David Fury is off the series.

Fury was one of several heavy hitter producers on the prehistoric family drama, along with fellow Steven Spielberg, Peter Chernin, Brannon Braga, Jon Cassar, Aaron Kaplan and Katherine Pope.

Sources say Fury, who was collaborating on the pilot script with Braga, left due to "creative differences." Braga will remain the showrunner.

The show recently added Allison Miller ("Kings") to the cast along with previously tapped star Jason O'Mara.

The shakeup comes after "Terra Nova" was already pushed back from its original midseason launch plans. Fox plans to air the pilot in May, then launch the show in the fall of 2011.
Not such a good sign to have an extremely talented writer such as Fury quit over "creative differences" early on. In some more upbeat news, Joseph Hodges (production designer on 24 seasons 1-7) has apparently joined Terra Nova as well.
Source: David Fury off 'Terra Nova' – The Live Feed/THR