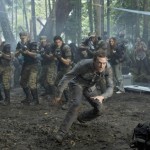 Here's an excellent behind the scenes article about the many challenges the Terra Nova crew has faced. Terra Nova is an upcoming FOX series by many former 24 crew members – Brannon Braga is showrunner, Jon Cassar is attached as the series regular director, production designers Joseph Hodges and Carlos Barbosa built the elaborate sets, and actor Mido Hamada (24's Samir Mehran) stars in a regular role.
The producers then brought on "24" writers Brannon Braga and David Fury to rework it. Mr. Fury soon left. "I had issues with the DNA of the project and because there were so many chefs in the kitchen," he says. Yet another writer was brought in, René Echevarria of "Star Trek: The Next Generation."
In September, the group agreed on Queensland, where Mr. Spielberg's "The Pacific" filmed. But many actors were unwilling to commit to spending months half way around the world. "Once we decided to shoot there, we eradicated half the casting pool," says Mr. Braga, the writer.
Read the full story at Wall Street Journal.