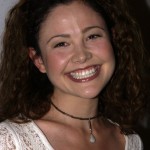 Does she have a favorite role? (Besides 24, Reiko has had recurring roles on ER, Lost, and Damages). "I used to say Michelle from 24," she says, "but I've really had some great roles so I can't really say that now. I've been lucky enough to have some really meaty roles over the years and I don't think that I can pick a favorite. I love to be able to jump around and do different things."

I ask Reiko if her experiences on 24 have helped her over the years to obtain the roles that she wants. "In some ways," she responds, pausing. "In some ways I had more opportunities after 24 because of the exposure, but in some ways, because I was associated with the show, it became a more limited range."

But she doesn't regret it for a moment. "Bottom line is that I had a great time doing it, and I had a great time. It was really good for me, and a lot of fun. I still have really good friends from the show." In 2004, when Reiko was a cast member, 24 won the Golden Globe for Best Drama.
You can read the full interview over at Woman Around Town