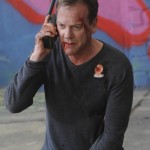 24 has made LA Time's list of "TV's top 10 moments of the first 10 months of 2010".
The clock stopped ticking for Jack Bauer on a sad spring day when Fox announced that "24" would end its groundbreaking stint on television at the end of the season. The Kiefer Sutherland-led drama concluded at the end of its eighth day with an emotional but hopeful ending that let viewers know that someday we'll see Jack Bauer again. (Nice and big on a movie screen!) The finale aired in May, but our mourning began in March.
Thanks PDFierro for the heads up!