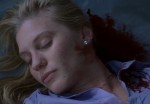 24 Season 8 episode 20 (Dana Walsh's execution) placed #17 on The Futon Critic's "50 Best Episodes of 2010".
17. "24: 11:00 a.m. – 12:00 p.m." (fox)

(originally aired: may 3, 2010)

Dark isn't exactly a new territory for "24" – just Google Jack Bauer and hacksaw – but the show's waters reached some new depths in this episode, which saw Jack anoint himself judge, jury and executioner of Dana Walsh over Renee's death. Her usefulness in finding her co-conspirators exhausted, Jack – rather than turn her over to CTU – simply opts to murder her in cold blood. Wow.
Source: The Futon Critic