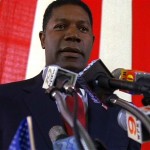 Well deserved listing on THR's list. Best fictional President ever!
Dennis Haysbert as David Palmer in 24

Dennis Haysbert plays David Palmer, voted by Blockbuster customers as respondent's Favorite On-Screen President. Calm, resourceful, and dedicated, Palmer is an all-American former basketball star who served as a Maryland senator prior to his presidency.
Source: THR